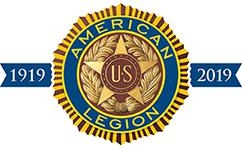 Celebrating 100 Years - Honoring the Past, Present and Future
The Post 7 Centennial Gala Celebration March 23rd, 2019
The American Legion stands for honoring and preserving our past while rededicating ourselves to the service of our county and communities today, tomorrow and for a lifetime. On Saturday, March 23 we honored our founder and our history with a Centennial Gala Celebration. While the American Legion is celebrating its centennial year in 2019, we at the Guy Carlton Parlett American Legion Post 7 are celebrating two birthdays. We too, were born in 1919. We are an "Original Founders Post" because Andreas Z. Holley served his state in the Maryland Guard and his country in the Army during WWI; attended the original Paris Caucus, which set the foundation for the American Legion; and returned home to Annapolis with his brothers-in-arms and established Post 7, which they named in honor of their frieJames Clopein as the American Legion Post 7, Annapolis, Maryland nd who passed away while preparing to deploy with the rest of their unit. We were thrilled to be able to share our respect and appreciation for the life and example Mr. Holley set for those who came after with his grandson, Mr. Vachel A. Downes III and his great granddaughter, Katherine Downes. Mr. Downes graciously brought historic documents and pictures with him to share in a history display. They have since been copied and are being made into a fascinating history book for the post.
While our history is rich, the mission remains as vital today as it was in 1919. So the evening was the perfect time to honor a man who is the human embodiment of selfless service. After the Maryland Southern District Commander, Patrick Guibao read an official Centennial Proclamation from Governor Hogan, Commander Jason O'Neil recognized Firefighter/Paramedic Career EMS provider of the year for his heroic efforts during the attack at the office of the Capital Gazette in addition to his dedicated service each and every day. We were honored to also have in attendance Mr. Clopein's wife, Rhetta, and Anne Arundel County Fire Department Chief Trisha Wolford and her husband, Tim Tharp. While much coordination and hard work by a number of dedicated volunteers went into making the evening a very special one, thanks to the help of four wonderful young volunteers from the St. Mary's High School "If Not Me, Than Who" Club, all were able to sit and enjoy a fantastic prime rib dinner, and join in a night of dancing to the music of Gary and the Groove. And in a wonderful celebration of life, Mr. Clopein led the conga line.
Pictures from the event (and many others) can be found on our Facebook page American Legion Post 7 Annapolis. You do not have to have a Facebook account to visit us there.